Helping Those Who Defend Our Freedoms Thrive In Civilian Life: Tech Qualled
If there's any institution in our nation that enjoys almost universal trust and support, it's the U.S. military. A recent survey conducted by the Pew Research Center found that 83 percent of respondents expresses high confidence in our military "to act in the best interests of the public."
This positive sentiment, however, does not necessarily carry over into the job market. Many active-duty personnel labor under the mistaken assumption that employers in the private sector will be lining up to put them to work as soon as they retire from military service.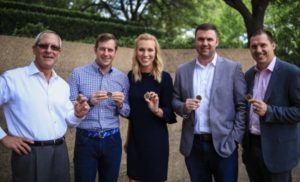 Sadly, that's not the case. In another recent survey conducted by the Iraq and Afghanistan Veterans of America (IAVA), almost half of the respondents said they were unprepared to transition to the civilian workforce. According to IAVA Chief Policy Officer Tom Tarantino, "Expectations of people leaving the military are higher than reality. We need to do a better job to set them up for success."
Setting veterans up for success in the civilian workforce is exactly what Tech Qualled aims to do. The company was conceived by leaders from Cisco and HP, Jim and Karen Sherriff, who realized that:
Sales is a vocation that can be taught.
Veterans are more likely to have the necessary grit, tenacity, and drive to succeed and deserve to find meaningful work once their term of service is complete.
The demand for effective technology sellers is almost infinite.
Our Founders

Jim and Karen Sherriff partnered with active-duty military personnel and veterans alike to found Tech Qualled in 2015. Since then, the organization has pursued an innovation-first approach to enhancing the opportunities and outcomes afforded to the veteran community.
Essential to that approach is Tech Qualled's comprehensive — and cost-effective — curriculum. Developed in partnership with experts in technology sales, Tech Qualled provides this curriculum to veterans via a learning management system that blends self-paced, virtual, and in-person instruction. The company recruits veterans who have an aptitude for sales, puts them through a 7-week boot camp, then helps those trainees secure sales positions with Tech Qualled's partners. As Tech Qualled CEO Todd Brown explains, "We like to think of ourselves as both a training academy and launching pad."
Tech Qualled currently partners with more than 150 top technology companies, including Cisco, Salesforce, Dell, VMware, Presidio, Tektronic, and Check Point Software. In addition to hiring Tech Qualled graduates, many of these firms participate in the training program's role-playing exercises.
But landing the job is just one of several victories Tech Qualled's veterans must notch on the way to achieving their ultimate goal. Staying on the job in an exceptionally competitive industry that experiences frequent turnover is just as crucial. Statistics show that Tech Qualled more than adequately prepares its graduates to do so. Over 80 percent of the veterans Tech Qualled places in tech sales retain their jobs past year one. That's 30 percentage points above the industry average.
To date, Tech Qualled has set nearly 300 veterans on the path to a meaningful, sustainable, and lucrative civilian career. But, like many other small businesses, Tech Qualled found itself battling a formidable enemy throughout the first half of 2020: COVID-19.
"Tech Qualled is not cash-rich by design," Todd says. "Our funding is dependent on our veterans securing the positions for which they've trained, and we try to invest every dollar we make in placing more veterans. Unfortunately, by the end of March, 85 percent of our key hiring partners had implemented hiring freezes."
Although Tech Qualled had done everything right and kept its organization lean, the company found itself cash-strapped and struggling to meet payroll. "We only employ five full-time employees," Todd notes. "But, without their passion, we couldn't function."
Keeping that team together became Tech Qualled's top priority. As soon the company's leadership learned that the Small Business Administration (SBA) had created a COVID-19-specific lending program, the Paycheck Protection Program (PPP), they contacted their bank. The PPP was a very new initiative, and public information about how it would help small businesses keep their doors open through the pandemic was scant and — in some instances — conflicting.
Understandably, Tech Qualled's leadership was eager to participate in the program and find a financial partner who could provide the knowledge and support needed to weather a period of unprecedented uncertainty. But answers to Tech Qualled's PPP-related questions were slow in coming. Worse, the responses the company eventually received from its bank were, in Todd's words, "non-committal."
Tech Qualled's leadership realized they would need to retain the services of a new bank if they hoped to secure any emergency funding through the PPP. And they didn't have time to lose. The program's original $349 billion allocation was rapidly being depleted.
After reaching out to and never hearing back from several other banks, Todd contacted Guaranty Bank & Trust's Fort Worth location. To Todd's immense relief, Tech Qualled's query was received very differently there. "Even though we weren't his customer, Casey Tibbets treated us like one from the very start," he recalls.
Casey immediately began assisting Tech Qualled in assembling and submitting its PPP application. Casey also did reconnaissance work and delivered valuable intelligence. "Casey was extremely responsive to our every concern — not to mention our moments of panic — and gave us daily updates on our application's status," Todd says. "His transparency about the process meant we could deal in facts and actions rather than having to wonder if the funds would somehow magically appear in our bank account. Casey was truly the savior of our mission."
Three weeks after Casey submitted Tech Qualled's PPP application, the company received more than $84,000 in financial assistance. With that infusion of cash, Todd and his team have continued to train veterans for rewarding careers, albeit on a reduced scale. However, Todd points out that "every day moves the needle in a positive direction." Seven Tech Qualled graduates have secured new sales positions since April, several are currently negotiating job offers, and several more are participating in final round interviews.
Whatever the future holds for Tech Qualled, Todd is confident of one thing. Should his small business ever need to call for reinforcements again, its request won't be ignored. "Guaranty is our bank now," Todd affirms. "They truly understand the dynamics of our business, and they're rooting for us to succeed. As we build future financial models for Tech Qualled, Guaranty will be our partner, helping us optimize our liquidity and ability to support our veterans."
About Tech Qualled
If you're a veteran transitioning to the civilian workforce and are interested in a career in high-tech sales — or a tech company interested in hiring veterans — you can learn more about our, Tech Qualled's, training program by Following our Facebook Page: https://www.facebook.com/techqualled or connecting with us on LinkedIn: https://www.linkedin.com/company/tech-qualled/
Ready to Apply for our Launchpad Academy? https://qualled.com/im-a-veteran/
About Guaranty Bank & Trust
At Guaranty Bank & Trust, we understand and appreciate the incredible diversity that defines Texas' small business community. We also admire the courage and devotion it takes to start an organization that aims to make a positive impact. If you're looking for a financial services provider who can help you make your entrepreneurial vision a reality, look no further than your nearest Guaranty Bank & Trust location. You can also contact our Custom Care Center at (888) 572-9881 or book a video appointment today. Our friendly, caring, and collaborative bankers can't wait to learn more about your goals and strategies for success.