Tech Qualled – SEAL Legacy Foundation UNT Mean Green Salute to the Navy Seals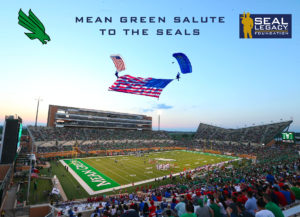 At Tech Qualled, we often find ourselves in a position to help fellow military organizations by sharing information with regards to important fundraising events taking place across our armed forces divisions.
On October 15th, 2022, a group of United States Navy SEALs will be skydiving into a University of North Texas football game. The purpose of the skydive is to raise money for the SEAL Legacy Foundation. The SEAL Legacy Foundation is a 501(c)(3) non-profit organization that specializes in assisting active duty, retired, and deceased U.S. Navy SEALs and their families. The event will take place on October 15th, 2022 at the Mean Green football game against Louisiana Tech.
If you are part of a larger organization who is interested in learning more about supporting this foundation and potentially sponsoring the event, please reach out to me, Nicole Brown nicole@qualled.com, and I will provide you with additional documentation (2-One Page PDF Files) along with a contact at the foundation, Jake Hellman.
Thank you for supporting our military! Please share and spread the word!
ABOUT SEAL LEGACY FOUNDATION
The SEAL Legacy Foundation is dedicated to providing support to families of wounded and fallen United States Navy SEALs, educational assistance for SEALs and their families, and other charitable causes benefiting the SEAL community. Established in 2011, the SEAL Legacy Foundation is a 501(c)(3), non-profit, tax-exempt organization based in Austin, TX. The Foundation was founded by SEALs, is run by SEALs, and supports the brave men of the U.S. Navy SEAL Teams. Please visit them at: https://www.seallegacy.org/
#hiremilitary
#hireveterams
#MeanGreen
#UNT
#Navy
#NavySeal
#gladtobehere
#LATech
#LATechAthletics
#501c3
#donate
#give
#military
#veterans
#aimhigh
#armystrong
#gonavy
#usnavy
#army
#airforce
#marines
#anationofsupport
#honorandremember
#NoOneLeftBehind
#NoOneForgotten
#seallegacyfoundation
#football
#meangreenfootball